Pumpkin soup is among the most popular soups. Adding spicy cauliflower and chickpeas will make it unique and very tasty. Pumpkin is usually present on our tables from September to November.
There are many autumnal recipes in which it is used, such as risotto with pumpkin and sage or the very famous American Pumpkin Pie typical of Thanksgiving. You can use butternut squash if you want to prepare this pumpkin soup all year round.
Butternut squash is a very popular variety in Anglo-Saxon and Commonwealth countries. Even after being harvested, it is kept in a cool and dry place for a long time. It is, in fact, one of the most cultivated varieties for this characteristic.
Ingredients
Serves 4, preparation time 10 minutes, cooking time 40 minutes
1 pumpkin/800g cooked pumpkin
1-2 cloves of garlic
1 shallot
sage
300g cauliflower
150g chickpeas
smoked paprika
chilli pepper
thyme
1lt vegetable stock
salt and pepper
Extra virgin olive oil
Method
1 – Arrange the cauliflower flowers and chickpeas in a large baking dish – so that the ingredients do not overlap. Add salt, pepper, chilli, thyme and smoked paprika, and mix well so that the spices coat the cauliflower and chickpeas. Finally, add a drizzle of oil and mix. Bake for about 40 minutes at 200°C. If your oven is very powerful, reduce it to 180°C.
2 – Wrap in aluminium foil a head of garlic (for the recipe, you will only need a few cloves) and the shallot. Bake the shallots, garlic, and squash at 180-200°C for about 40 minutes or until soft and cooked through – the garlic could cook in only 20 minutes.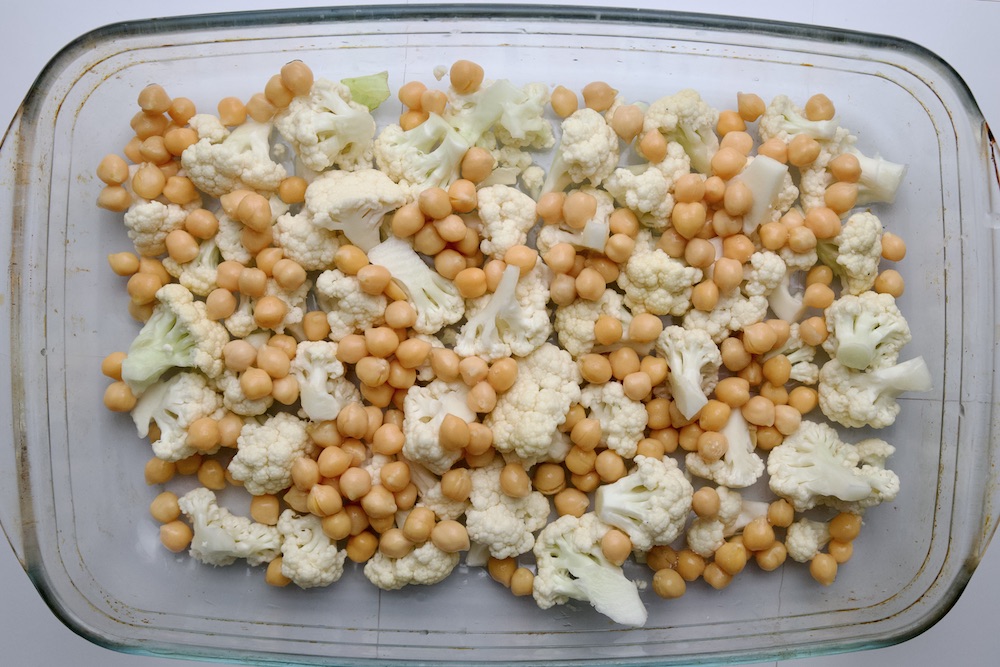 3 – In a large saucepan, add the diced cooked pumpkin (with or without skin, according to your taste), shallot, sage, 2 cloves of garlic, salt, pepper, and chilli pepper. Add two-thirds of the stock, and blend everything with a stick blender (or in the food processor) until the desired consistency for your pumpkin soup. Add more stock as needed. Season with salt, pepper and spices and serve piping hot, garnished with sour cream, fresh herbs, spiced chickpeas, and cauliflower.
Tips
Since all the ingredients are baked before blitzing them for the pumpkin soup with spicy cauliflower and chickpeas, you can simply pop them all together in the oven and bake them for the required time.
You can store the leftover oven-cooked garlic in the refrigerator and use it in other soups or sauces. Baked garlic has a less pungent flavour and is very versatile.
Wash the pumpkin with a sponge to remove traces of earth from the peel, especially if you eat the pumpkin skin-on.
Where possible, it is always better to eat fruit and vegetables skin-on, well washed and, if possible organic. Doing so, you can take on a good amount of fibre, essential for staying healthy and having good intestinal flora.