Pumpkin risotto with sage is the perfect autumn pumpkin recipe. This risotto can also be turned into tasty arancini balls for a popular party snack.
Pumpkin or squash sweet flavours go very well with herbs like rosemary, sage and thyme, and spices like chilli and ginger will enhance it. The best is to try different spices and herbs to find your favourite combination.
To boost this dish and to make it into a super risotto, why not try brown rice to benefit from brown rice, which is a rich source of phenols and flavonoids. Eat pumpkin or butternut squash skin-on for the extra fibre important for your health.
If you love pumpkin try our delicious egg muffin with pumpkin and ricotta.
Ingredients
serves 4, prep time 10 minutes, cooking time 50 minutes, includes roasting pumpkin.
340g rice
750g raw pumpkin or squash, chopped and roasted
5-6 leaves of sage
3-4 sticks of thyme
1 tbsp tahini sauce
1 carrot
1 stick of celery
½ white onion
1lt vegetable stock – freshly made or from bouillon powder
salt and pepper
Sesame seed and fried sage leaves to garnish
Method
1 – Roast the squash or pumpkin skin-on until it is completely cooked and soft. Prep the vegetable stock: boil fresh carrot, celery, onions and peppercorn – or dissolve bouillon powder in hot water (bouillon powder tends to be high in salt, you may need to adjust seasoning once the rice is cooked but try not to add to much salt from the beginning). Small dice celery, carrot and onion.
2 – In a large pan, add a drizzle of oil, then the diced carrot, celery, onion and thyme leaves picked from the stalk, pour some hot stock and let all soften. Then add the chopped pumpkin/squash skin-on (keep some for garnish), the rice and the shredded sage leaves.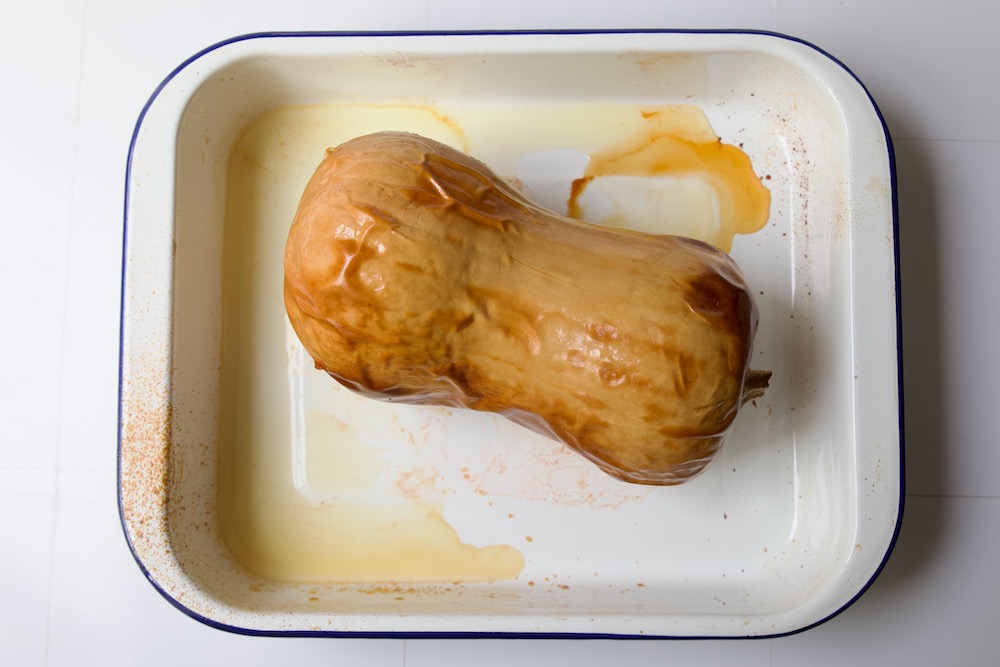 3 – Add enough stock to cover the rice and stir everything together. Stir often to allow the rice to cook and release some of the starch to turn the rice into risotto. Check seasoning and adjust accordingly to your taste. Finish of the risotto and add a generous tablespoon of tahini sauce or peanut butter. Stir well and serve the pumpkin risotto with chopped pumpkin, sesame seeds and crispy sage leaves.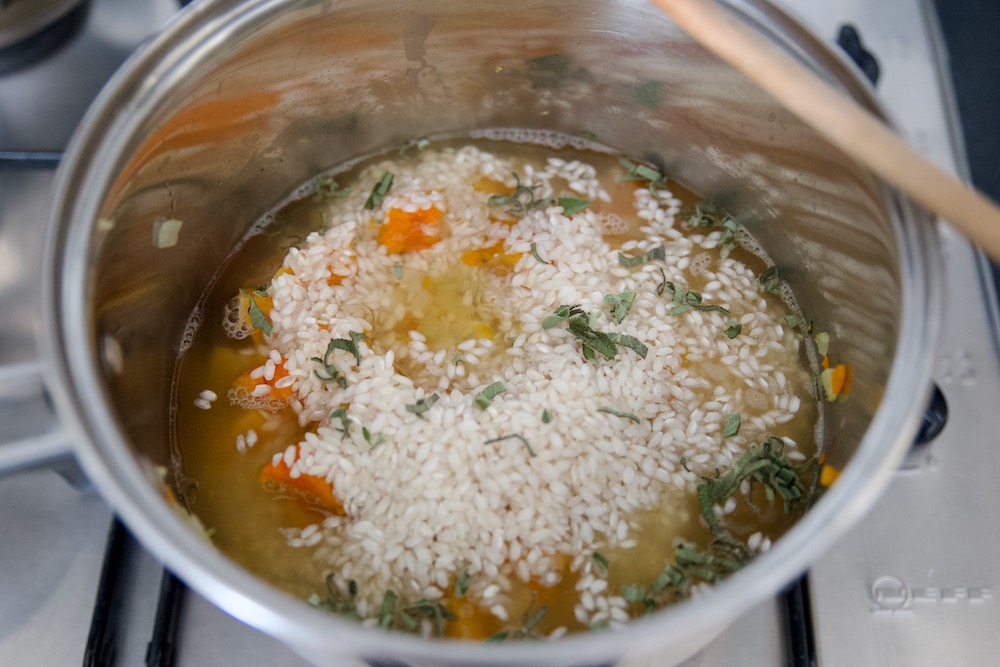 Tips
Tahini sauce or peanut butter will enhance the natural nutty flavour typical of pumpkins
You can fry sage leaves in shallow oil or lightly coat them with oil and microwave them for 1 ½ minutes. Opening the microwave every 20 seconds to check that the leaf is not overcooking.