Looking for a recipe that will please everyone? Look no further than our gluten-free lasagna! Our secret to success lies in our delicious Bolognese sauce and béchamel, which you can find on our website.
Gluten-free lasagna sheets are slightly yellower than wheat lasagna, and this is because of the cornmeal and chickpea flour that is often used to make gluten-free pasta. Gluten-free lasagna sheets melt easily in the mouth because of the absence of gluten.
However, the flavour of the lasagna remains delicious thanks to the Bolognese sauce, béchamel, and cheese layers. If you're a fan of lasagna, we recommend trying our cheesy polenta with spicy chilli con carne.
Ingredients
For 4 people, prep time is 20 minutes, and cooking time is 45-60 minutes
10 sheets gluten-free lasagna sheets (fresh or dry)
500g Bolognese sauce (ragù)
200g gluten-free béchamel sauce (white sauce)
2 mozzarella balls
200g grated cheese
Salt and pepper
Basil
Method
1 – To make easy lasagna, prepare ingredients and follow our Bolognese sauce recipe. Brown meat, add mirepoix, tomato paste, tomato passata, herbs, and cooked meat. Simmer for 1-2 hours.
2 – To make a gluten-free béchamel sauce, melt butter and add gluten-free flour, then cook. Next, mix in warm milk. Mix half milk and half water if you prefer a less rich flavour. 
3 – Then build the lasagna: ladle some Bolognese sauce in the bottom of the oven-safe tray, then place gluten-free lasagna sheets (you can make lasagna sheets by following our recipe for fresh pasta or using store-bought sheets).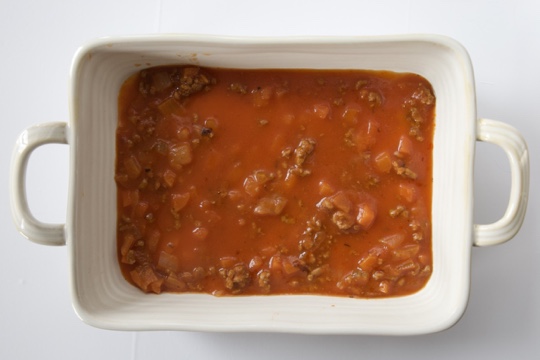 4 – Alternate layers of gluten-free lasagna sheets with Bolognese sauce, béchamel, and cheese. Finish with béchamel and mozzarella on top. Bake at 200°C for 45 minutes or until cooked and crispy on top. Garnish with fresh basil leaves and serve.
Tips
Whether using freshly made lasagna sheets or store-bought, do not precook the pasta, as this will compromise texture and flavour.
Cut and let mozzarella rest on a wooden plate or chopping board, which will successfully absorb the juice that may make lasagna too watery.