It is so easy to make vegan patty at home. You'll only need a few ingredients which you may already have in your pantry. These vegan patties are packed with fibres and one of the key ingredients is the legume. Pick yours. Chickpeas, lentils, red kidney beans or Borlotti beans have the perfect creamy consistency. Butterbeans and cannellini beans may be too dry for your patty.
To make this vegan patty even softer, you will need pumpkin or sweet potato, which is better if cooked in the oven to reduce moisture and intensify the flavour, like we used in the recipe for this delicious pumpkin dip. For spices and herbs, let your taste guide you, bearing in mind that beans, butternut squash, pumpkin and sweet potato tend all to be quite sweet. Try to balance the sweetness with lemon zest, pepper, chilli and paprika.
Plant-based burgers are increasingly popular. And if you want to pair it with the perfect bun, try our recipe for soft gluten-free buns.
Ingredients
For 4 patties, preparation time 15 minutes, cooking time 5-8 minutes:
120g cooked beans
1 tablespoon of oil
130gr cooked pumpkin / sweet potato
70g 2-day old bread (from gluten-free bread)
1 tsp ground ginger
1 ½ tsp of paprika (sweet or smoked)
5gr chia seeds
1 tbs of chopped parsley
1 tbs of chopped spring onion
½ lemon juice and zest
Chilli pepper
salt
Pepper
Method
1 – Blend the beans with the oil and lemon juice. Add it in a large bowl with the cooked pumpkin, parsley and spring onion.
2 – Add the crumbled gluten-free bread and the rest of the ingredients (leave the chia seed aside) and mix well. The mix will feel very soft but compact. Now add the chia seeds, mix and let it rest for at least 15 minutes before portioning it, so the chia seeds absorb all the excess moisture
3 – Cook the burgers in a hot non-stick pan. Cover the pan with the lid so the heat reaches the centre of these tasty burgers. Serve with gluten-free bread, salad and horseradish or mustard sauce.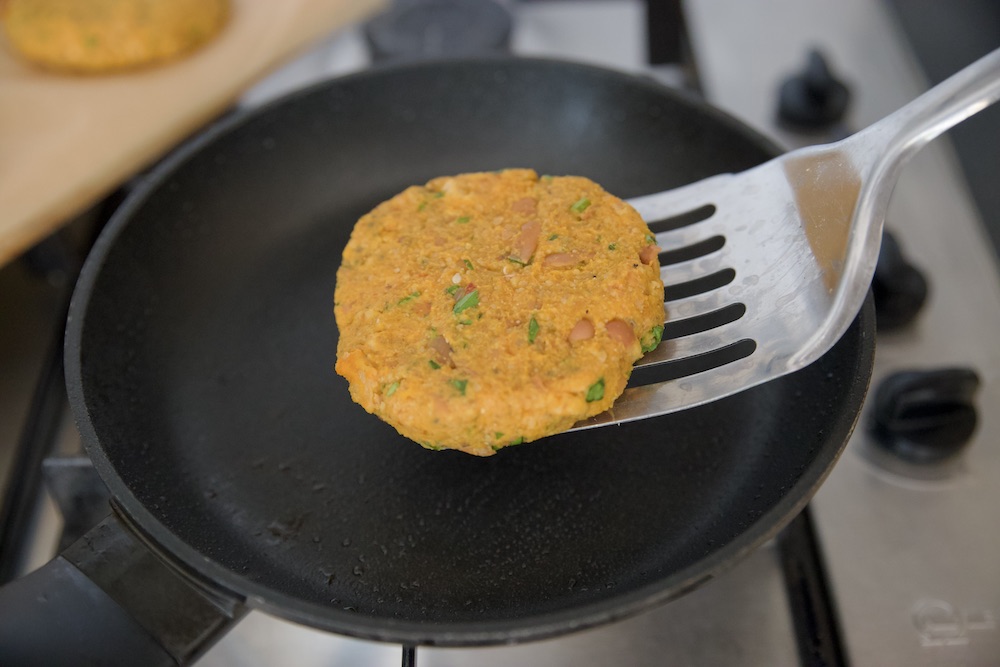 Tips
The consistency of the mix will depend on how moist the pumpkin is. Few more grams of chia seed can retain the excess moist.
These vegan burgers are perfect to be stored in the freezer for up to 3 months.