Peanut butter cups with chocolate and peanut butter are a delicious snack for the whole family, best when it's homemade and prepared with the simplest ingredients: good quality chocolate and peanut butter made of 100% peanuts with no salt, sugar, or additives added.
This snack contains a balanced mix of proteins and carbohydrates, and it's a great option if you are looking for something simple after sport. Make it better by eating a piece of fruit with it!
It is indeed a 3-ingredient recipe that can be easily made with the help of young children since it does not require using any utensil. Store it in the fridge for best results and wrap it in cling film when taking it with you for a snack on the run.
If you love peanut and chocolate, try our delicious recipe for Snickers bars.
Ingredients
Makes 6 cups, prep time 15-20 minutes.
80g dark chocolate (~70%)
80g milk chocolate (~60%)
90g crunchy peanut butter (100% peanuts)
Salt flakes
Method
1 – In a small bowl, add half of the total chocolate roughly chopped. Melt it in the microwave for 1 minute at a medium temperature, stirring every 20 seconds. Add the rest of the chocolate, stirring continuously, to allow the chocolate to melt and reduce the temperature. Alternatively, melt the chocolate over a Bain-Marie.
2 – Line a muffin tray with two paper cups for a muffin for each well. Pour some chocolate in each well (~1 ½ tbs each) and turn the tray to the side so the chocolate can spread up to one-third of the cup, keep turning the tray, so the layer gets thicker as the chocolate hardens.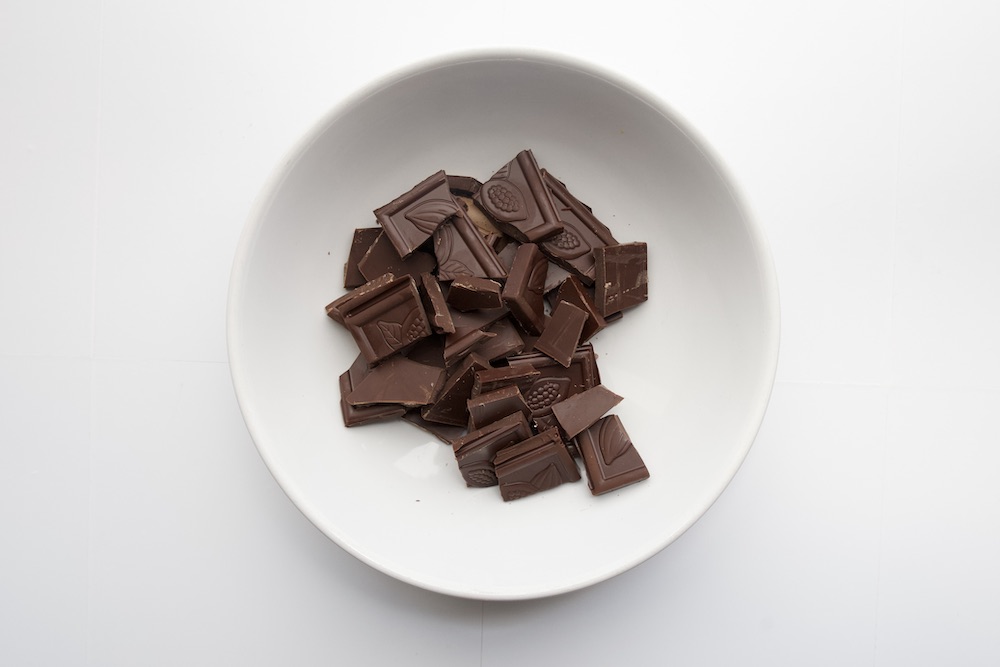 3 – Put the tray in the fridge and let the chocolate set completely. Once the chocolate is hardened, take it out of the fridge and spoon in the peanut butter (~1 ½ tbs). Let it set in the fridge for at least 10 minutes. Finally, cover with the rest of the chocolate (melt it again, if necessary, but avoid pouring it if too hot). Sprinkle some salt flakes and let the peanut butter cups set in the fridge.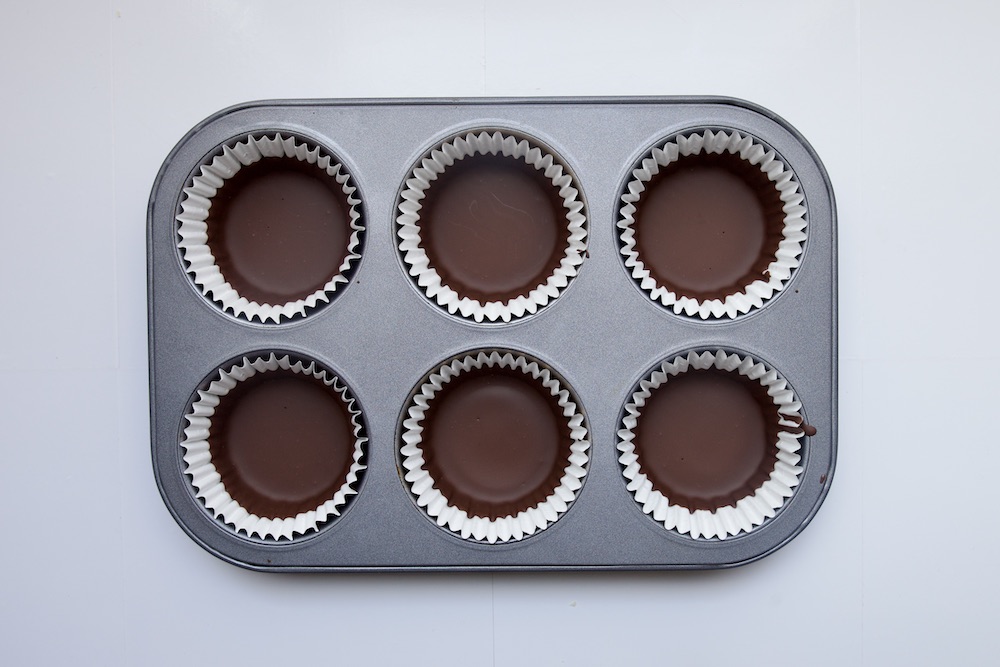 Tips
Melting the chocolate slowly and in batches allows for a great snappy texture.
Use two paper cups for each case or a thick paper case so the melted chocolate will better keep the crinkled shape.
Using a nut butter made of 100% nuts is the best and healthier option. However, it can result in quite oily, so it is best to stir it very well and let it set in the fridge before using it for this recipe.