Tartare sauce is a classic French sauce most commonly used with fish dish or potato salads. The sauce is typically made with mayonnaise, but you can swap it with sour cream for a fresher taste.
To make the sauce, add pickles, gherkins, and herbs, along with lemon zest and juice, for an extra tangy kick. This combination of tart and savoury flavours creates a delicious condiment that will enhance any meal. It keeps very well in the fridge, store it in a air-tight container and eat it within 5 days.
This white sauce pairs perfectly with any fish dish; try it with our fish cakes or blackened salmon fillets for an irresistible combination of flavours.
Ingredients
For 350g of tartare sauce
200g sour cream
10g dill
5g tarragon (optional)
1 lemon zest
1 large gherkin
1 tbsp capers
pepper
0
Method
1 – Mix sour cream (or mayonnaise) chopped dill and tarragon, lemon zest and squeezed juice in a bowl.
2 – Add in diced gherkins and chopped capers.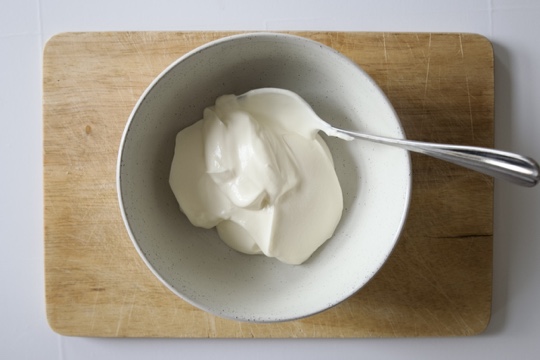 3 – Mix all the herbs and pickles with the sour cream, taste it and adjust with salt and pepper if needed. Serve your freshly made tartare sauce with your favourite fish dish.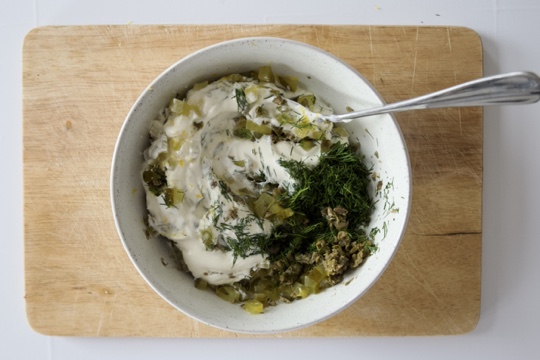 Tips
Tarragon has a peculiar and strong taste that not everyone may appreciate, add little by little to ensure you like the flavour in your tartare sauce.
Tartare sauce keeps well in the fridge for a few days if kept in an airtight container.